At a price that won't take a bite out
of your wallet
The veterinarians and dedicated support staff at BAH provide your pet with the comprehensive dental care you need to keep both you and your pet smiling.
Bloomingdale Animal Hospital provides comprehensive veterinary care for your pets. We are conveniently located at the corner of Bloomingdale Avenue and Lithia Pinecrest Road, offering easy access for our clients in the Brandon, Bloomingdale, Valrico, Lithia, Riverview and FishHawk area. Centrally located with ample on site parking and a staff of dedicated professionals, assuring your pet's good health has never been easier.
Call us today (813) 681-6612 and schedule your appointment.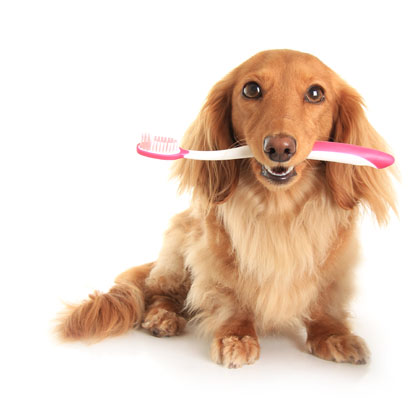 From Basic annual cleanings to Periodontal disease, including:
All designed to increase your pet's quality of life and life span while giving you the peace of mind you deserve.
1. Broken tooth: pets chew a lot and sometimes can fracture a tooth. This can be painful and depending on the situation
may need to be removed or repaired.
2. Oral Tumors: Dogs and cats can sometimes develop growths on the gums, cheeks and tongue. During a cleaning is an
excellent time to evaluate, remove and biopsy these to help to prevent further disease and discomfort.
3. Stomatitis: This is an inflammatory disease seen mainly in our feline friends. By cleaning the teeth below the gum line and adding additional medications we can help keep our pets comfortable and healthy.
4. Dental x-rays: We can take images of our pets mouths to evaluate jaw health and tooth roots for additional disease that may not be detected from visual inspection.
5. Cavities: Although our pets don't eat as much sugar as we do they can still develop an occasional cavity that can cause discomfort and pain when chewing. These can also be addressed during a routine cleaning.
6. Gingival Planning: Certain breed dogs or pets taking certain medications are prone to excessive gum overgrowth. This causes bleeding gums and difficulty in chewing. With this technique we are able to trim back the gums and make a more normal chewing surface for the pet.
7. Oronasal Fistula: As pets develop severe dental disease there can sometimes be a communication between the mouth and the nasal passage. This allows food and other material into the nose and can cause severe infections and nasal discharge. This communication can be repaired and the problem eliminated.
8. Complete oral surgery: There are times that we need to repair areas of the mouth when various problems arise and the BAH staff is able to execute many different types of procedures.
Additionaly, during your pet's annual exam, we provide complimentary advice on dental home care, offering a wide range of inexpensive dental product such as: Pet toothpastes, brushes, pet mouthwash, dental chews, and food specifically formulated to enhance your pet's dental health.
How often should I get my pet's teeth cleaned?
Generally, your pet will benefit from at least an annual professional cleaning. However, in some cases a more frequent cleaning schedule may be necessary. But, you should consult with your veterinarian at Bloomingdale Animal Hospital to determine the appropriate oral healthcare program for your pet.
Why Does my pet's breath smell?
While it's something people often may laugh about – foul breath can be an indicator of something as simple as tartar build-up or as serious as oral cancer. However, for your peace of mind, only an oral exam performed by your veterinarian will accurately determine the cause of your pet's bad breath.
How many teeth do cats and dogs have?
Puppies start out with 28 baby teeth and kittens start with 26. Generally, by six months, adult dogs have 42 teeth and adult cats have 30.
Will my pet be able to eat normally after tooth extractions?
Generally, most cats and dogs manage well after an extraction. Some veterinarians may recommend a soft diet following an extraction. However, while this may sound reasonable, we believe it may be counter productive – and result in soft food particles becoming lodged in your pet's tooth socket. Each circumstance is different and we will advise you how to feed your pet following any extraction.
I have an older pet – Is it safe for them to have a dental procedure?
In most cases yes. With today's advances in veterinary medicine, dental procedures are very safe. Ironically, it's most often the case that an older pet is in more need of dental care. In order to be confident, a consultation with your veterinarian at Bloomingdale Animal Hospital will address your individual concerns.
When was the last time your pet's teeth were professionally cleaned?
Call today and schedule your appointment – We'll give your pet a Grrrrreat Smile … at a price that won't bite you in the wallet.
WHERE MAN'S BEST FRIEND HAS A BEST A FRIEND, SINCE 1985
About Us
A visit to your veterinarian should be a comfortable, caring and warm experience for you and for your pets. That's why you'll find at Bloomingdale Animal Hospital we've created an environment that puts you and your pets right at ease. Our treatment programs help protect your pets, keeping them in vigorously good health... and all of you in good spirits.
Meet Your Vet
Stay in Touch
Hours of Operation
Mon-Fri 7:30am-6pm
Sat 8am-Noon | Sun Closed
Privacy Policy | Email
©2012-2016 Bloomingdale Animal Hospital. All rights reserved.
Site by Jonathan & Co
Bloomingdale Animal Hospital | 3404 Lithia Pinecrest Road | Valrico, FL 33596
Tel (813) 681-6612 | Map | Email